Hiring a Land Surveyor
August 15, 2022
Whenever consumers intend to purchase, rezone or subdivide a piece of land, one of the key things which they are required to do is to procure the services of a land surveyor.
Who are land surveyors?
As per Fiji Institute of Surveyors, these are professional people whose academic qualifications and post-graduate training enable them to advise on the management and use of land and property, both rural and urban and whether developed or undeveloped. Surveyors understand the legislation governing land and property; the markets trading in it; the services supporting it; and the economics of construction, management, maintenance, acquisition and disposal.
Getting a land surveyed is important as it will not only show exactly where the property lines lie, it might also reveal unknown easements, encroachments, and boundary issues that could cause problems later.
Hence, surveyors play a very important role in ensuring consumers have the right information when purchasing a land or doing any other land-based developments.
However, even though surveyors play a critical role in our market sector and procuring this service poses a significant monetary heft on consumers, at times their services are not up to par.
Issues raised against land surveyors
The Consumer Council of Fiji (CCoF) has received 13 complaints against surveyors and valuers with a monetary value of $36,000 just within the last 6 months – which is an alarming number and indicative of an emerging issue which needs immediate attention.
Complaints reveal that certain land surveyors and valuers took thousands of dollars from consumers with the promise of conducting land survey and preparing documents for title registrations, however months passed without the work being completed.
A common excuse provided to consumers by land surveyors is that the documentations are completed but is awaiting approval from relevant authorities such as Department of Town and Country Planning. However, when consumers enquire with such authorities, they are informed that the applications were incomplete from the surveyor's side or in some instances, the documentations were approved months ago but the surveyor failed to inform the consumer.
The need for consumers to be vigilant and responsible
Whilst the Council continues to work towards creating a fair and just marketplace, consumers also need to be vigilant and responsible; to ensure they do their part in avoiding dealings with questionable businesses/individual and lose out their hard-earned bucks.
When acquiring a land surveyor to conduct a survey on your property or project it is important to hire an experienced and trusted professional. Land surveying is a tough job and it requires plenty of attention to detail, discipline and good communication skills. Most people just assume every land surveyor will be good enough but this is not always true. Hence, consumers are urged to take heed of the following tips when planning to engage a land surveyor.
Research Your Options
Land surveyors provide information critical for purchasing or developing a land. So, do some research on reputable surveyors. Real estate developers and construction contractors can be a valuable resource, along with online review sites and even social media.
2. Compare prices
Get quotations from different surveyors in order to get the best deal.
3. Check if the surveyor is registered
Registered and licensed surveyors are experts in land management law, titles and planning. They are government-authorized surveyors who can prepare subdivision plans and define boundaries legally. Consumers can verify if a surveyor is registered by checking the names in the register of surveyors available on the official website of Ministry of Lands and Mineral Resources.
4. Check if the surveyor meets relevant requirements
Surveyor report usually needs to be submitted to different organizations such as banks. However, each organizations have its own panel of surveyors. Getting your land surveyed by a surveyor which is not recognized by certain organizations may create hassle for consumers. Hence, this must be verified beforehand.
5. Ask about specific experience
When looking at potential surveyors, ask how much experience they have working on similar tasks as you require. A reputable surveyor should also be happy to provide references from clients with projects similar to yours
6. Technology does not replace actual data
Many online resources are available for estimating property lines and other features. However, these tools may only be used as reference purposes. Survey reports developed by consumers themselves or other non-registered surveyors will be deemed invalid by most organizations.
7. Communicate expectations and get it in written
Based on the purpose of the survey and the requirements by the organizations (E.g., banks) which will use the report, clearly communicate the expectations with clear timelines to the surveyor. Get these in writing as well.
8. Do not make full-upfront payments
It is advisable to make partial payment to the survey in order to confirm that you are procuring their services. Only make full payments once the survey report is completed and handed over. Keep receipts of all payments made.
9. Follow-through on the timelines
If the surveyor delays work even by one day, contact and enquire why there is a delay and also inform their superiors.
10. What questions to pose?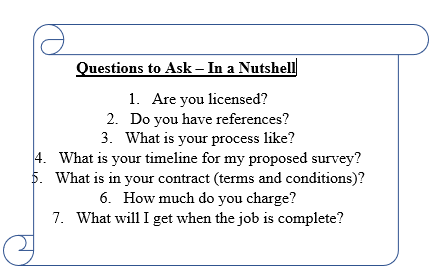 What to do when things go wrong?
If the surveyor is not honoring the agreement and failing to meet expectations, consumers can lodge complaints with the Council via the following mediums;
National consumer helpline toll-free number 155;
Consumer Council of Fiji mobile app (available on google play store);
Consumer Council of Fiji Facebook page;
Complaints portal on the Consumer Council of Fiji website – consumersfiji.org;
Email: complaints@consumersfiji.org or
Visit any of our offices in Suva, Lautoka and Labasa.